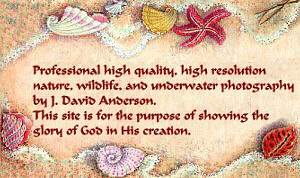 Click "True Love" button above for a new update on the Cyber Romance story, updated October 28, 2003.

Click on any of the images below of nature, wildlife, underwater, kids, and wild cars for a thumbnails page of more images in that catagory. Then click any thumbnail for larger view.
Thank you for visiting AndersonGraphix.net. Please forgive our dust as we continue construction of our site. Be sure to check us out again soon, as we are expanding almost daily.




Web Master - Michael McCarthy

Content Creator - J. David Anderson

Michael McCarthy Certified Administrator/Designer This page Copyright ©2007. Ethereal Blue Studios©: Hollywood

Images and text exclusive property of Anderson Graphix. All rights reserved. Duplication forbidden. 2002©

All material, including but not limited to, articles, graphics, Flash files, sound files, and programming code, are protected by the United States copyright law. Unless otherwise indicated, these are property of Anderson Graphix(andersongraphix.net), and may not be used without the prior written permission of Anderson Graphics(andersongraphix.net). Permission is never granted for commercial use of copyrighted material, in whole or part. Use is granted, with proper permission, for personal or nonprofit use, providing no more than one article, one graphic file, and/or one sound file is used on any single print publication. To request use of Anderson Graphix(andersongraphix.net) material, write:


<


Page Last Modified October 2003©


&nbspAlta Vista