Anitha and I met on December 6, 2001 on CrossDaily.com in a chat window. I had been net surfing, and was browsing CrossDaily.com, and had registered my profile a few months prior. I saw a click point that said, "See who's online now", and out of curiosity, I clicked it. I thought to myself, "I don't know anyone here, but let's see what it looks like just for fun." After a moment, up popped a window with a list of user ids and time they had been online. I noticed that I could check their sex and age, or double click one of them and start a chat with any of them. However, being a little on the shy side, I didn't do that. After a little less than 2 minutes, I was about to close the window, when up pops a chat window to me from Anitha and all it said was "hi". So I went ahead and answered. I then checked to see what her age was, and thought to myself, "too young", but I'll chat anyway.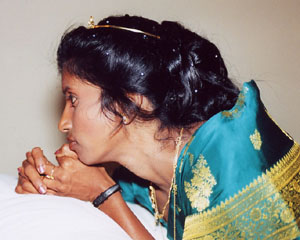 Anitha
After a few short hellos, and how are you, and the like, I asked where she was from. When I learned she was from the opposite side of the world, India, I thought, "Gee, can't I at least find someone from Florida?" I felt this would never lead to anything, but at least I can be a cyber-friend for a few minutes. It seemed awkward at first, but the discussion did continue for quite some time, and although I expected the discussion to die an early death, it didn't. I wasn't sure I was even interested in spending too much time on it, since I thought the chances of us ever meeting were not likely. I suppose the thing that did bond us the most was a common belief in our Lord Jesus Christ. So after a long time, we did exchange email addresses, and afterwards emailed pictures of ourselves to each other. The next few days I looked for her online there, but never saw her there again. However, we did start emailing each other everyday.
We both ended up being amazed at how close we came to each other just through the emails. Within a week, it became an exclusive relationship! I couldn't believe it myself. I had not had another exclusive relationship in a year! I then traveled to Utah for Christmas, and was not sure I would be able to email her each day. But I went out of my way, and made a few trips to the library to make certain I could check my email, and reply to her daily. After I returned home to Florida, we soon started live chat on Yahoo IM, on more days than not.
We attempted to get her a tourist visa to come to the US, but it was denied on each try. That was a long process. While waiting for the final try, I had pretty much decided that would be denied too. So I started preparing myself to go to India. This mindset began in late April. Soon, I didn't even care whether her tourist visa was approved or not.
So on June 8th, 2002, I left Miami, and made my first trip away from the US that was further away than the Bahamas. I went against the pleading of friends and family, including my mother, who was so worried about my safety, and against the advice of our government because of the tensions between India and Pakistan. However, I didn't care about the risks. I wanted to be with her no matter what the risk.
I arrived in Bangalore on the morning of June 10th, with the normal nervousness one has in a first meeting. However, after having 6 months of real closeness, we were both pretty certain of each other. By the end of that day, I knew it was right. I knew I could marry her.
However, I wasn't going to tell her yet! I had a plan. And despite her constant pleading to know my intentions, I still would not tell her. I was holding out. You see, her family had a dinner planned for the second evening after my arrival. And I wanted the proposal to be something memorable. I intended to propose in the presence of her family.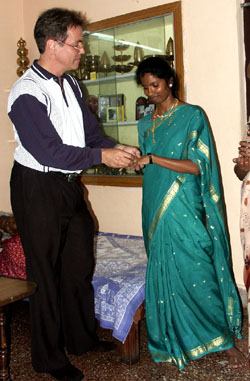 The Engagement
So the big meeting arrives. Because of their traditions, it appears that Anitha and I will not be together much that evening. So I first meet with the elders of the family. First telling my story to one couple, then starting over for another. Since Anitha's father is deceased, her uncle is the head of the house. He is the patriarch of the family. He finally arrives, and I start all over. This time I'm a little more nervous, because he is the one I have to ask permission to marry her. And as I am speaking, he doesn't have too much to say or ask, but is shaking his head "no" a lot of the time. That of course does not seem like a good sign, but I continue anyway. Finally, I pop the question to him: "I respectfully request your permission for Anitha's hand in marriage." And without hesitation, he says, "Yes, I will do that." I almost didn't believe my ears, so I asked, "You will?" And he affirmed with a yes! So we shook hands, and I raised the other one to the heavens, and said, "Praise God".
So as we gather for dinner, I proposed 3 toasts, the first to her mom and her late husband for the beautiful way they had brought up all their children in the way of the Lord. The fruits of that work were so evident in all of them. It was the number one thing that I loved most about Anitha. The second was to the rest of the family, and their hospitality, and the final one was the proposal. I let her know how life giving her words of love had been over the last 6 months, and that it was my desire to join with her in Holy Matrimony. And the question: "Will you marry me?" Without hesitation, she gave a yes!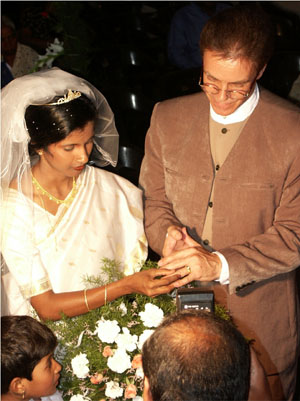 The India Wedding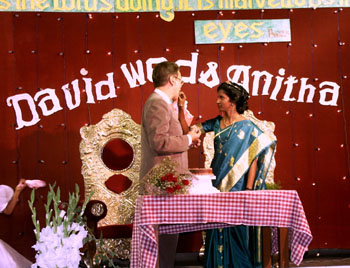 The Reception
So we married just 6 days after that! While I was there in India! I am now going through the INS process to bring her over here as quickly as possible. I have witnessed many miracles along the way, some in small ways, others in more dramatic, which have shown me that God has really brought us together, and it is beautiful to behold! I have never felt such love for another human being, as long as I can remember! And I know that God is the center of this relationship, and I know it will last always! Despite warnings, "David, be careful", because we have invited Jesus to be in the middle of this marriage, nothing will ever divide us! PRAISE OUR RISEN SAVIOUR FOR THIS AWESOME GIFT!!!!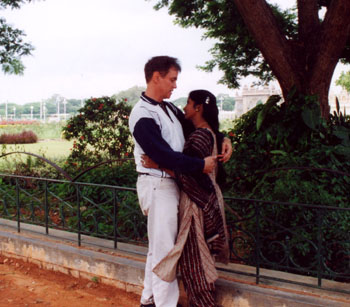 The Honeymoon
UPDATE OF APRIL 4th, 2003
On November 20th, 2002, the INS has approved her I-129F petition for her to come join me! It took another 3 weeks for the notice to reach the state department. Then for whatever reason, they gave her a February 19th appointment for the interview for the K3 visa. We were happy to finally have a date, but not happy the date was set so far into the future. We emailed the US Consulate General in India requesting an earlier appointment, but felt they most likely would not budge. We felt it would take a miracle. But we do believe in miracles, and prayed for one. Well, praise God, they did respond, and she now has a January 17th appointment!!! After that, I had purchased a plane ticket for her to come here on January 28th. However, after her January 17th appointment with the Consulate, they decided to take another month to process it. After 2 months, they still had not responded, other than telling us we needed to wait for them to contact us. However, now, we have finally received the invitation for her to visit the consulate. I just heard at 5:45 AM this morning that her visa application has been APPROVED!!! She now has a confirmed plane ticket into Miami, set for April 9th, 2003!!! Her plane is scheduled to arrive at 2:05 PM! This has been a day I have dreamed of for such a long time. PRAISE OUR RISEN SAVIOR FOR DOING THIS!
SHE ARRIVED APRIL 9th, 2003, at 2:46 PM!!!!!


On June 14th, 2003, we convalidated our marriage in our home church at San Isidro Catholic Church in Pompano Beach, Florida. Seen with us is Fr. Alberto Cutiť who officiated at the celebration. The day was truly a blessing to us. I experience God continuing to deepen our love for each other. I firmly believe what the gospel said during the wedding: "They are no longer two, but one flesh. Therefore, what God has joined together, man must not separate." Afterwards, we honeymooned in Orlando, Florida, followed by a visit to my mother in Utah for a few weeks. She is now my life, and my love.
| | |
| --- | --- |
| The Florida Wedding | The Florida Wedding |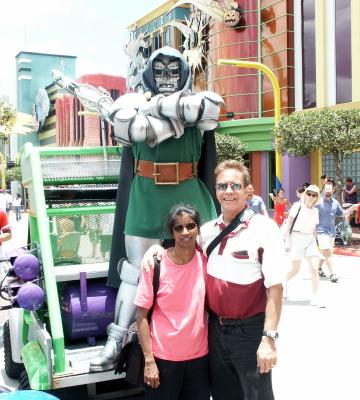 Honeymoon in Orlando, Florida
Web Master - Michael McCarthy
Content Creator - J. David Anderson
Michael McCarthy Certified Administrator/Designer.
This page Copyright ©2003. Ethereal Blue Studios©: Hollywood
Images and text exclusive property of Anderson Graphix.
All rights reserved. Duplication forbidden. 2002©